Managing Internal Email


Email security established at the SMTP server helps ensure that only safe, compliant and appropriate messages enter and exit the internal organization. But what about unsafe, non-compliant and inappropriate email that is already inside the organization?
MailMarshal Exchange is an Outlook email filtering solution for Microsoft Exchange Server 2000 / 2003 / 2007 that helps organizations provide a safe environment for employees; free from harassment and objectionable material. It also improves productivity levels by managing non-business email content and attachments. At the same time, this Outlook email filtering solution secures confidential information against accidental or intentional data leakage. MailMarshal Exchange delivers email content analysis, acceptable use policy enforcement, data leakage prevention and reporting technologies in a single, easy-to-manage solution. It also integrates with optional modules for anti-virus scanning, anti-spyware and pornographic image detection.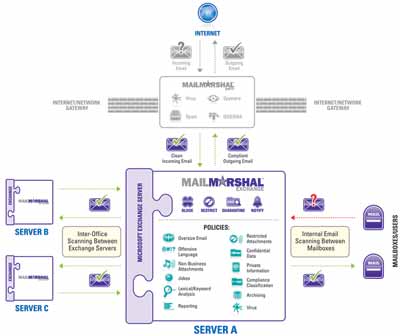 Features
Provides content monitoring and filtering with deep content inspection of all email, including attachments
Protects against malware with anti-virus and anti-spyware scanning between mailboxes and Exchange servers
Automatically enforces organizational acceptable use and email security policies
Ensures compliance with industry regulations and government legislation
Provides essential anti-spam protection
Controls data leakage prevention (DLP) with lexical dictionaries, file identification and fingerprinting technologies
Facilitates archiving with precise message classification and advanced message searching
Analyzes images in email and attachments to identify and block pornography (optional)
Provides comprehensive and meaningful reporting on all email activity
Easy to use with simple, intuitive administration and automation, including Active Directory user synchronization
Benefits
Enforced corporate use policy and regulatory compliance
Prevents data leakage
Mitigates content-related legal liability
Protects reputation against damaging or embarrassing content
Safe and more productive work/learning environment
Improved network efficiency and cost savings
Improved employee productivity
Rapid return on investment
Low total cost of ownership
MailMarshal Exchange uses an Agent which plugs into the Exchange Server message queue. The MailMarshal Exchange Agent retrieves messages from the Exchange queue before they reach the Exchange message store. These messages are then processed by the MailMarshal Exchange Engine which applies deep content inspection and enforces your policies. Messages that breach policy are then removed from the processing queue and are typically placed into the MailMarshal Quarantine folder. Messages which pass inspection are reinserted into the Exchange Message queue.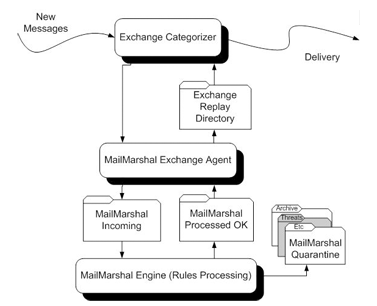 MailMarshal Exchange Operation
MailMarshal Exchange 5.2 supports Exchange Server 2000 and Exchange Server 2003. MailMarshal Exchange 5.3 supports Exchange Server 2007. The specific architecture for MailMarshal Exchange integration differs slightly between Exchange 2000/2003 and Exchange 2007.
MailMarshal Exchange has a small impact on overall Exchange message throughput. The impact on Exchange depends on your environment and message volume. As a typical guide, expect a 15% increase in message processing time.
Requirements
MailMarshal Exchange Console/Configurator/Reports (5.2)
MailMarshal Exchange 5.2
Processor: Pentium 4 class or higher
Disk Space: 10GB HDD (NTFS) or higher
Memory: 512MB RAM or higher
Database: Microsoft SQL Server 2005 or SQL Express 2005
Operating System: Windows Server 2003 / Windows XP Pro SP1+ (32-bit)
MailMarshal Exchange Console/Configurator/Reports (5.3)
MailMarshal Exchange 5.3
Processor: Pentium 4 class or higher
Disk Space: 10GB HDD (NTFS) or higher
Memory: 512MB RAM or higher
Database: Microsoft SQL Server 2005 or SQL Express 2005
Operating System: Windows XP SP2 (32-bit) OR Windows Vista SP1 (32-bit and 64-bit) OR Windows Server 2003 (32-bit and 64-bit) OR Windows Server 2008 (32-bit and 64-bit)
MailMarshal Exchange Monitoring Agent
MailMarshal Exchange 5.2
Microsoft Exchange: Microsoft Exchange Server 2000 / 2003
Operating System: Windows Server 2003 (32-bit)
MailMarshal Exchange 5.3
Microsoft Exchange: Microsoft Exchange Server 2007
Operating System: Windows Server 2008 64-bit (MailMarshal Exchange 5.3.0 or later) Windows Server 2003 64-bit) (MailMarshal Exchange 5.3.1 or later)