M86 MailMarshal SMTP
Email Gateway Security
Spam, malware, complex compliance policies, and confidential data leakage are just some of the concerns that keep today's messaging administrators up at night. M86 MailMarshal SMTP takes care of all these issues — and more — providing a single solution for organizations large and small.
M86 MailMarshal SMTP is a versatile, powerful and scalable email security system, compatible with any network environment. It integrates email threat protection, anti-spam, inbound/outbound content analysis, policy/compliance enforcement, data leakage prevention and reporting into a single, flexible and easy-to-manage solution. Armed with the latest technologies, including behavioral analysis, IP reputation service and SpamBotCensor, M86 MailMarshal SMTP helps messaging administrators more effectively manage security, bandwidth, TCO, email efficiency and, of course, their precious time
M86 MailMarshal SMTP acts as a gateway, filtering all email sent and received at the network/Internet perimeter. It blocks incoming threats such as spam, phishing, viruses, malware, malicious links and Denial of Service attacks, while also monitoring outbound messaging — enforcing Acceptable Use Policies and compliance with data leakage prevention policies. M86 MailMarshal SMTP can be deployed as a standalone solution, or as a distributed array designed to support the largest networks, including centralized administration.
What's New?
Enhanced Anti-Spam Protection
Spam is an evolving threat that requires anti-spam solutions to adapt through innovation. M86 MailMarshal SMTP provides advanced, new layers in its Defense-in-Depth Anti-Spam Engine.
MailMarshal IP Reputation Service – A real-time IP look-up service that enables MailMarshal SMTP to deny connections from known spam sources. This occurs before messages are transmitted, resulting in substantial bandwidth savings and more efficient spam protection.
SpamBotCensor – The majority of the world's spam comes from Botnets. SpamBotCensor is a unique innovation that enables MailMarshal to quickly and accurately identify and block messages generated by known SpamBots.
Blended threats — emails containing malicious URL links — are arguably the most dangerous email threat facing organizations. Traditional, signature-based anti-virus measures often leave organizations vulnerable to these threats. The new Blended Threats Module for M86 MailMarshal SMTP is an optional security service that detects known malicious URLs in email messages. It leverages M86 Security's patented behavioral analysis technology that identifies malicious links. Those are then added to a dynamically updated database, greatly improving zero-day threat prevention.
Automated User Group Maintenance
MailMarshal now provides automated pruning of unused email addresses from automatically generated user groups, maintaining efficiency and server performance.
New Outbound SMTP Authentication
MailMarshal now enables configuration of outbound SMTP authentication for each route within MailMarshal — useful when ISPs require SMTP credentials to combat spammers.
Improved Inbound SMTP Authentication
Inbound SMTP authentication now supports CRAM-MD5 for more secure authentication between servers.
And More
A new Upgrade Tasks feature advises MailMarshal administrators on recommended actions and newly available features following a new release upgrade.
A new report spam/not spam feature facilitates streamlined notifications to M86 Security Labs of missed spam or false positives.
All user groups MailMarshal associates with a specific email address can be identified by specialized search tool.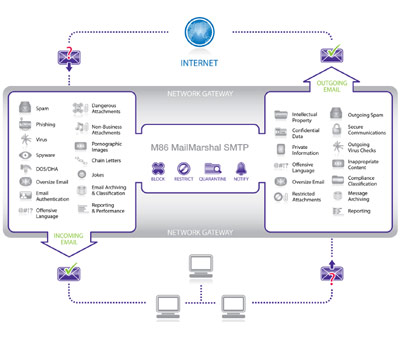 Key Features
Best-of-breed anti-spam (99.5% spam blocking with near-zero false positives).
Protection against phishing, viruses, malware and blended threats (malicious links).
Inbound/outbound content security (deep content inspection of messages and attachments).

Extensive lexical (language) analysis and recursive file unpacking.
Controls attachments by size and MIME type.

Acceptable use and compliance policy enforcement.

Enforceable by individual, groups or all users.

Data leakage Prevention (DLP) technology.
Secure, automatic email encryption.
Message archiving.
Pornographic image detection (optional).
Denial of Service (DoS) and directory harvesting attack prevention.
Extensive reporting and message classification.
Comprehensive enterprise management.

Supports native Active Directory (AD) or Lightweight Directory Access Protocol.
Key Benefits
Secures your email gateway against all threats and restores the true business value of email, making it safe and efficient to use.
Provides rapid Return on Investment, measureable through management reports, improved security, bandwidth savings and performance gains.
Delivers low cost of ownership with easy, flexible deployment and administration, consolidated and centralized security functions and extensive automatic updates.
Consistently enforces Acceptable Use Policies, protecting employees and providing a safer working environment.
Provides comprehensive legal liability protection by removing inappropriate content, offensive language and demonstrating that all reasonable measures to protect employees and fairly enforce policies are in place.
Ensures industry or government regulatory compliance though automated policy enforcement and thorough inspection of email content.
Protects employee productivity by virtually eliminating spam and other email distractions.
Improves network efficiency and saves costs by managing bandwidth utilization, rejecting spam from known sources and reducing excessive non-business email.
Safeguards your organization's reputation by preventing confidential data loss and embarrassment via inappropriate or offensive email conduct.
Requirements
Hardware
| | | |
| --- | --- | --- |
| | Minimum Suggested | Recommended* |
| Processor | Pentium 4 or equivalent | Pentium Core 2 Duo 3.0 GHz or higher |
| Disk Space | 20GB (NTFS) or higher | 160GB (NTFS) or higher |
| Memory | 1GB RAM or higher | 2GB RAM or higher |
---
Software
Operating System
Windows Server 2008 / Windows Vista / Windows Server Standard or Enterprise 2003 SP2 or later / Microsoft Small Business Server 2003 & 2008 / Windows XP Professional SP3 or later
(MailMarshal SMTP supports 32-bit mode running on 64-bit operating systems)
Database
SQL Server 2008 / SQL Server 2008 Express / SQL Server 2005 / SQL Server 2005 Express
---
*These requirements are recommended for a 100 user organization desiring high performance and sufficient resources for 12 months of report logging and email archiving.
Deployment
M86 MailMarshal SMTP is designed to be deployed as the first receiving email gateway in your organization. It is typically deployed in the DMZ between your network firewall and the trusted internal network.
A typical MailMarshal deployment with MailMarshal acting as the email gateway.
MailMarshal can be deployed in a standalone configuration with database logging and the administration console located within your trusted environment. MailMarshal is also specifically designed to support multiple distributed mail processing servers configured in an array. The array is managed centrally by the MailMarshal Array Manager which can control and manage multiple nodes. Administration can be performed locally or remotely via the MailMarshal Web Console. Reporting is provided via the Marshal Reporting Console included with M86 MailMarshal SMTP.