M86 Web Filtering and Reporting Suite
(Previously the Professional Edition)
Web Monitoring, Reporting and Filtering Without Compromise.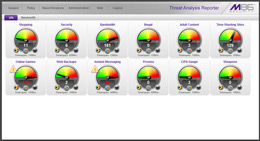 M86 Security Reporter Interface
Click to Enlarge
The M86 Web Filtering and Reporting Suite delivers high-performance, enterprise-quality filtering via a suite of optimized, task-specific appliances. Residing outside the flow of network traffic, it executes passive observation and approval/denial of outbound Web requests. This pass-by/SPAN port methodology results in unmatched network compatibility, performance and fail-safe confidence. Anchored by a broad and deep URL database organized into over 100 categories identifying millions of Web sites, the M86 Web Filtering and Reporting Suite has been ranked among the most accurate Web security solutions for the over 10 years.
Reporting with the M86 Web Filtering and Reporting Suite is a completely different experience compared to reporting with other Web filtering products. Engineered and dedicated to meet true "real time" expectations, the suite's Security Reporter processes granular data queries—down to the user and specific Web page—at speeds that deliver fast results and retrieve archive data in a fraction of the time that other products require. Additionally, the M86 Web Filtering and Reporting Suite is designed with today's business, education and government archival requirements in mind. Should additional data retention be required, the M86 Web Filtering and Reporting Suite provides clients with custom NAS configurations.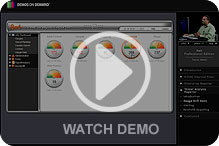 Finally, the M86 Web Filtering and Reporting Suite monitoring solution bridges the gap between detection and action. By setting customized thresholds, administrators can "watch" outbound Web traffic 24/7; automatically receiving alerts to AUP violations, bandwidth threats and other suspect Web activity. It can even shut down user access if needed—in real time. The M86 WFR Suite can be implemented through a single, integrated "M86 Web Filter and Reporter" appliance or a dedicated "M86 Web Filter" appliance with a dedicated "M86 Security Reporter" appliance.
Features
M86 Web Filter Database: Filters the Internet via URLs and/or IP addresses, file types (e.g. MP3, MPEG, .zip), HTTP, HTTPS, FTP, Newsgroups (NNTP), and TCP Ports. Includes security categories on spyware, malicious code and phishing sites.
Application Control: Controls over 90+ applications. WFR Suite utilizes M86 Security's Intelligent Footprint Technology (IFT) to block IM and P2P servers by signature or pattern.
Internet Usage Policy Control: Provides administrators the ability to block, warn, or implement quota on Internet use.
"X-Strikes" Blocking: Locks down a user's workstation when administrator-defined thresholds for accessing inappropriate Web sites are exceeded.
Web Proxy Pattern Blocking: Blocks anonymous proxies using signature-based/network pattern detection.
Google/Yahoo! SafeSearch Enforcement: Forces the SafeSearch mode "on" for all searches, including images within the Google or Yahoo! search engines.
Calendar-Based Time Profiles: Time profiles can be set to the calendar by day, day of the week or day of the month. Recurrences can be configured for daily, weekly, monthly and yearly settings.
Real-Time Threat Dashboard: Offers up-to-the-minute graphical "gauge view" of online activity, displaying an organizational snapshot of multiple threat categories and "top offenders" based on predefined thresholds and policies. Gauges are easily customizable to monitor different groups and threats
Intuitive Executive Reports: Quickly identify anomalous Internet activities through easy-to-read graphical reports, including the top blocked users, top categories, top sites, etc
Custom or "Canned" Reports: Generate "canned" reports using pre-set templates for quick reference, then drill-down for more detail and customization
Detailed Forensic Reporting: Detailed drill-down reporting provides several unique criteria that help organizations build compelling forensic reports. "User intent" is gauged by documenting the full length URLs visited, as well as the "search string" used within a search engine text box
Optional Remote User/Laptop Filtering: Extends the organization's Internet usage and security policies to remote users. Compatible with MACs and PCs.
Benefits
Safer and more productive work/study environment
Robust performance and reliability
More time for IT management to dedicate to mission-critical projects
Easy-to-use policy and reporting interface
Meets or exceeds compliance regulations
Protection against reputation-damaging Web content
Protection against content-related legal liabilities
Mitigates compromise of confidential information
Optimizes bandwidth and network resources
Provides a fast and measurable return on investment (ROI)
Delivers low total cost of ownership (TCO)