M86 WebMarshal
Secure Web Gateway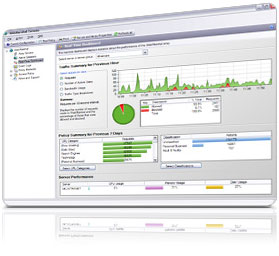 In a Web 2.0 world, organizations and employees are increasingly reliant on Internet access for business and for facilitating work / life balance. Yet in terms of security and data protection, Web 2.0 has created an unprecedented risk environment with new threats and vulnerabilities which many organizations are still coming to terms with.
M86 WebMarshal is a Secure Web Gateway – a comprehensive solution which addresses the full spectrum of Web-based security threats as well as the many requirements and issues that arise in managing workplace Internet use. M86 WebMarshal is the answer to managing and securing Internet use for any size or type of organization.
M86 WebMarshal software is deployed between your organization and the Internet where it inspects all incoming and outgoing Web traffic. It protects your organization and your users from Internet threats including, malware, viruses, blended attacks and attempted fraud. M86 WebMarshal ensures that workplace Internet use is appropriate and complies with company policies. And, WebMarshal monitors and controls the flow of information in and out of your organization, protecting confidential information and intellectual property.
M86 WebMarshal software is the solution to a wide range of Web security issues in one seamless, easy to use, highly scalable, dependable and cost effective solution.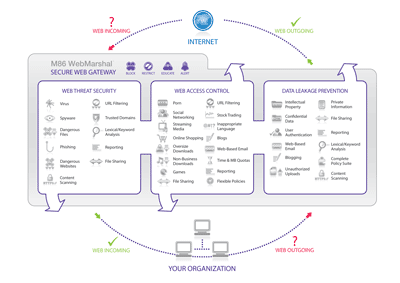 Key Features
Inspects incoming and outgoing Web traffic in real-time.
Manages access to websites by category and content analysis.
Blocks Internet security threats such as viruses, malware, blended attacks and social engineering scams.
Controls bandwidth consumption and applications including streaming media, instant messaging and social networking.
Provides data leakage prevention (DLP) by controlling what employees upload to the Web including text and files.
Supports flexible and intuitive policy enforcement with advanced Directory integration for user authentication and time/bandwidth quotas for personal Internet use.
Enables detailed yet easy to understand Internet activity reporting.
Key Benefits
Secures your Web gateway against all Internet threats.

Blocks viruses, spyware/malware, blended threats, anonymous proxies, phishing, and other harmful Web content, protecting your users and your IT resources from malicious websites.

Safeguards confidential information and intellectual property against data leakage over the Web.
Improves productivity and enforces acceptable use policies.
Manages bandwidth use, improves network performance and saves costs from non-business bandwidth consumption.
Offers a fast and measurable Return on Investment.

Provides understandable reports and executive summaries to demonstrate ROI, measure improved productivity and highlight protection against malware infection.

Provides consistent and dependable legal liability protection.
Allows you to meet or even exceed a range of compliance obligations.
Protects your organization's reputation and saves you from publically embarrassing inappropriate use situations.
Provides a low Total Cost of Ownership.

Easy to install, cost effective, minimal administration requirements, flexible and future-proof, with centralized management and reporting.
Requirements
HARDWARE
Minimum Suggested
Recommended*
Processor
Pentium 4 or equivalent
Pentium Core 2 Duo 3.0 GHz or higher
Disk Space
20GB (NTFS) or higher
30GB additional disk space for proxy caching
80GB (NTFS) or higher
Memory
2GB RAM or higher
3GB RAM or higher
SOFTWARE
Operating System
Windows Server 2008 (32 / 64 bit) / Windows Vista SP1 Business or Ultimate (32 / 64 bit) / Windows XP Professional SP2 or later / Windows 2003 Server SP1 or later
Database
SQL Server 2008 / SQL Server 2008 Express / SQL Server 2005 / SQL Server 2005 Express
ISA Server (Optional)
ISA 2006 (Standard and Enterprise editions) / ISA 2004 SP2 or later (Standard and Enterprise editions)
*These requirements are recommended for up to 500 concurrent Internet users.
Deployment
As a Secure Web Gateway, M86 WebMarshal is typically deployed between your network firewall and the trusted internal network. From here, M86 WebMarshal can analyze Web requests and control what content is downloaded or uploaded to the Web.
M86 WebMarshal can be deployed in a range of options including:
As a standalone proxy server with caching.
Chained to another proxy on a physically separated server.
Chained to another proxy located on the same server.
In an array with multiple, distributed M86 WebMarshal content processing nodes reporting to and managed by a centralized administration console.
Installed as an ISAPI Filter integrated into Microsoft ISA Server (note – some functionality is reduced in this scenario).
Sizing
M86 WebMarshal is very flexible and scalable and can be deployed in a range of options to suit any size of organization from five users to tens of thousands of users.
M86 WebMarshal can also be deployed to service the needs of organizations spread over wide areas with multiple sites and Internet gateways.
Sizing M86 WebMarshal is dependent on a range of factors including the number of Web users and the amount of Web browsing that they do.